21 Important Safety Signs & Symbols And Their Meanings – Safety Symbols are labels portraying graphics set forth by the International Standards Organization (ISO) which are recognized internationally. This helps ensure the dangers present are understood by an increasingly multi-lingual workforce. The shapes and colours of the safety symbols distinguish the hazard type or hazard instruction.
21 Important Safety Signs & Symbols And Their Meanings
We will be highlighting 21 common safety signs and symbols here.
Let go;
1. Prohibition Sign: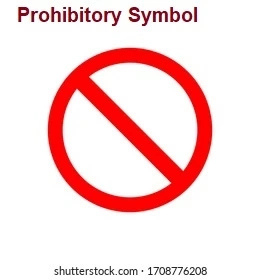 The prohibition symbols gives information about a dangerous behaviour, Stop, Shutdown, Emergency cut-out devices or evacuate. Round shaped with a black pictogram on white background or red edging with a red diagonal line.
2. Warning Signs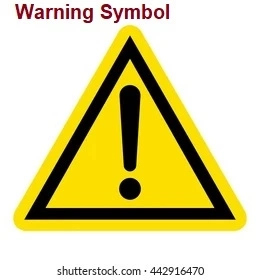 Warning sign has a yellow background. It tell you to be careful, to take precautions, and also warns about nearby hazards. The sign do has a triangular shape, black pictogram on yellow background and black edging.
3. Mandatory sign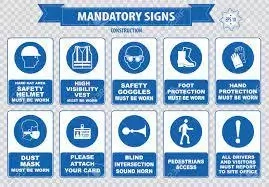 Mandatory sign tells you about a specific behavior or action. It's always round in shape with white pictogram on blue background.
4. Emergency sign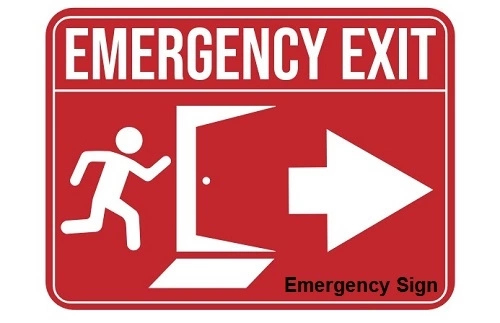 Emergency sign always have a green background pasted on doors, exits, escape routes, equipment and facilities, etc. It is rectangular or square shape with white pictogram on green background.
We have successfully group the safety symbols into their various categories, now I will enumerate some important safety symbols you should know in order to stay protected from hazards.
5. Flammable Sign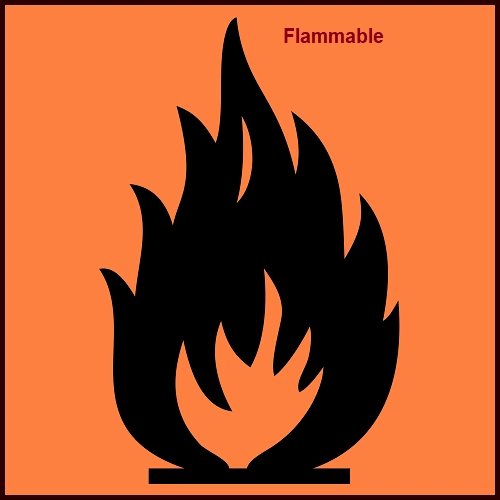 A "Flammable" sign is a warning indicator commonly featuring a flame symbol on a contrasting background. It signifies the presence of easily ignitable materials in the vicinity, cautioning individuals to exercise care and avoid activities that could lead to fire. This visual cue is crucial for promoting safety in potentially hazardous environments.
6. Explosive Sign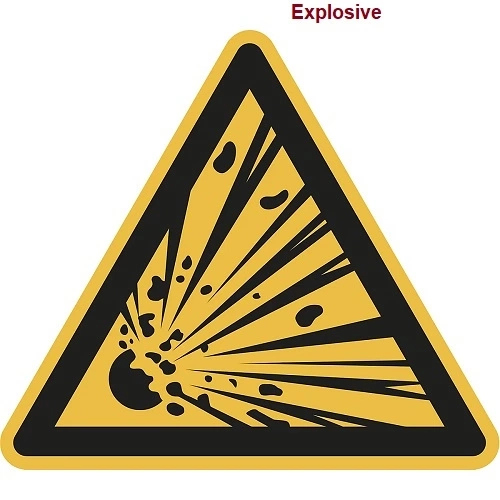 An "Explosive" sign is a distinctive warning symbol often depicting an exploding object. This sign alerts individuals to the presence of materials that can undergo rapid combustion, releasing significant energy. It serves as a crucial visual indicator, urging caution and adherence to safety protocols in areas where explosive hazards exist.
7. Tripping Hazard Sign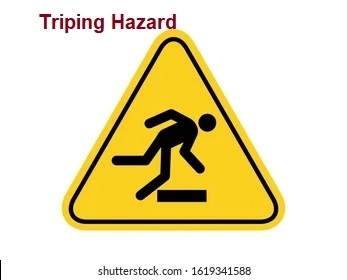 A "Tripping Hazard" sign typically displays a person falling or stumbling. It signals the presence of obstacles or uneven surfaces that pose a risk of tripping or stumbling. This visual warning is crucial for promoting awareness and prompting individuals to exercise caution in order to prevent accidents and injuries in the area.
8. Toxic Material Sign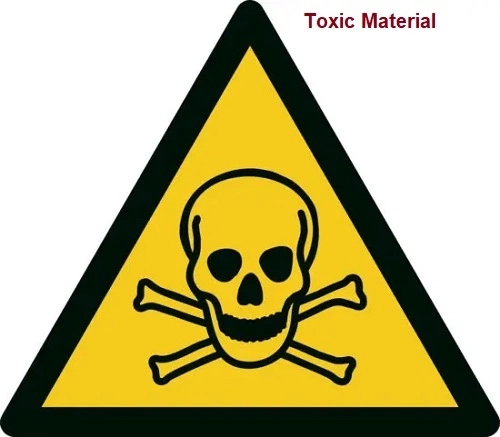 A "Toxic Material" sign typically features a skull and crossbones symbol, indicating the presence of substances harmful to health. It serves as a vital visual warning, alerting individuals to potential exposure risks. This sign emphasizes the importance of following safety protocols, wearing protective gear, and taking precautions when handling or entering the designated area.
9. Nose Mask Required Sign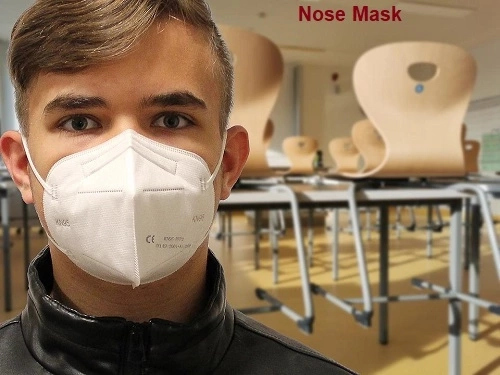 A "Nose Mask Required" sign conveys the mandatory use of face masks to protect against airborne contaminants. Typically featuring an image of a person wearing a mask, this visual cue emphasizes the importance of respiratory protection. It serves as a clear directive, promoting a safer environment and mitigating the spread of airborne particles.
10. Low Temperature Sign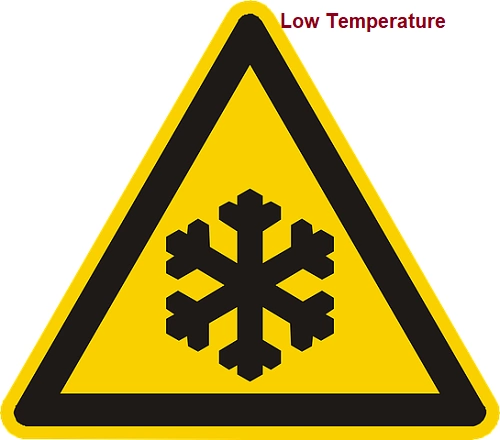 A "Low Temperature Hazard" sign typically features an icicle or thermometer symbol, indicating the risk of extremely cold conditions. It serves as a visual warning, prompting individuals to take precautions such as wearing appropriate clothing and being aware of potential hazards associated with low temperatures, like slippery surfaces or frostbite.
11. Heated/Hot Surface Sign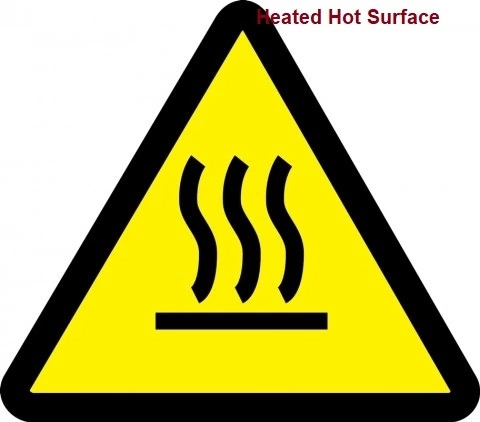 A "Heated Surface" sign usually displays a symbol of radiating heat waves or a hot surface icon. This visual warning signals the presence of elevated temperatures, cautioning individuals to avoid contact to prevent burns or injuries. It is essential for promoting safety and awareness in areas with heated equipment or surfaces.
12. Eye and Eye Protection Required Sign
An "Eye Protection Required" sign typically features an image of protective goggles, emphasizing the mandatory use of eye safety gear. This visual cue serves as a clear directive, reminding individuals to wear appropriate eye protection in designated areas where the risk of eye injuries exists, promoting workplace safety and reducing the likelihood of accidents.
13. Danger Sign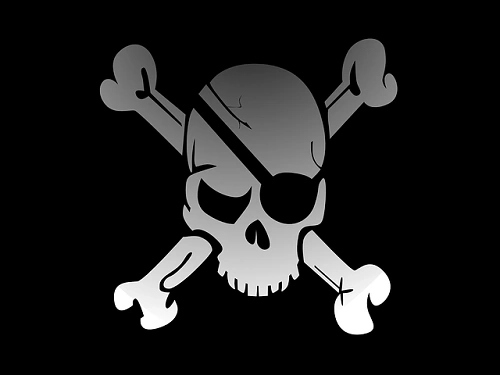 A "Danger" sign is a bold warning indicator featuring the word "Danger" in prominent letters, often accompanied by pictorial symbols. It signifies imminent hazards or threats in the area, urging individuals to exercise extreme caution. This visual cue is critical for preventing accidents and promoting safety by clearly communicating potential dangers within a given space.
14. High Voltage Sign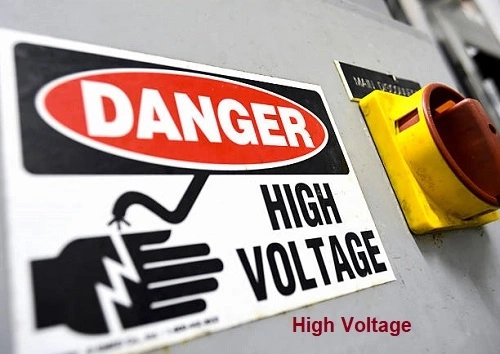 A "High Voltage" sign typically displays a lightning bolt or electrical symbol, indicating the presence of dangerously elevated electrical potential. This visual warning emphasizes the risk of electric shock or other electrical hazards. It is essential for promoting safety by alerting individuals to take necessary precautions and avoid contact with high-voltage equipment or areas.
15. Emergency Exit Sign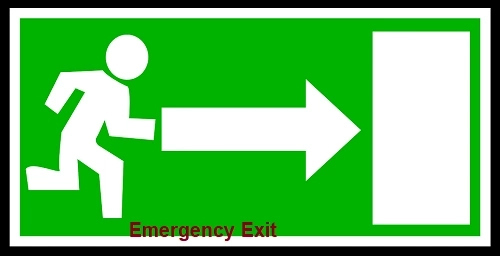 An "Emergency Exit" sign features a running figure or arrow pointing to an exit, indicating the nearest escape route in case of emergencies. This visual cue is crucial for swiftly guiding individuals to safety during crises, emphasizing the importance of identifying and using designated emergency exits to ensure a quick and secure evacuation.
16. Emergency Assembly Point Sign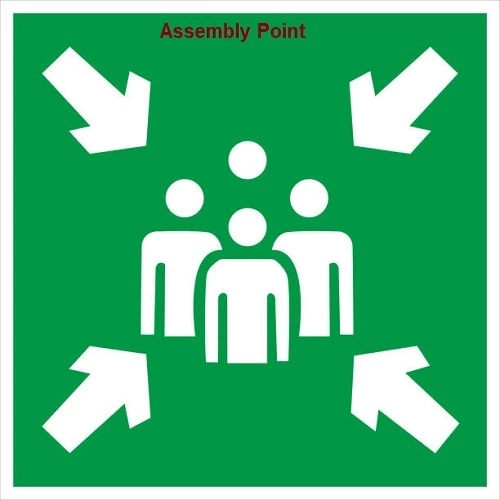 An "Emergency Assembly Point" sign typically displays a gathering of people or an arrow pointing to a designated area. It signals the predetermined location where individuals should convene after evacuating a building during an emergency. This visual guide ensures an organized and safe assembly, aiding emergency responders and facilitating headcounts for accountability.
17. No Smoking Sign
A "No Smoking" sign is a clear prohibition indicator, often featuring a crossed-out cigarette or pipe symbol. This visual cue communicates the strict ban on smoking in the designated area, promoting a smoke-free environment. It is essential for maintaining health, safety, and compliance with no-smoking policies in public spaces or workplaces.
18. First Aid Sign
A "First Aid" sign typically displays the universally recognized white cross on a green background, indicating the location of first aid facilities or equipment. This visual cue is crucial for swiftly guiding individuals to access immediate medical assistance during emergencies, promoting a prompt and organized response to injuries or health crises.
19. Fire Extinguisher Sign
A "Fire Extinguisher" sign typically features an image of a fire extinguisher, signaling its location. This visual indicator is essential for quickly directing individuals to firefighting equipment in case of emergencies. It promotes safety by ensuring that people can readily locate and use fire extinguishers to mitigate or control a fire hazard.
20. Restricted Area Sign
A "Restricted Area" sign typically features a combination of text and symbols, indicating limited access or entry authorization. This visual warning communicates that only authorized personnel are permitted beyond this point. It is crucial for maintaining security, privacy, and safety by clearly demarcating areas with restricted access or specific permissions.
21. Radioactive Sign
A "Radioactive" sign usually displays a trefoil symbol, indicating the presence of radioactive materials. This visual warning is crucial for alerting individuals to potential radiation hazards. It emphasizes the need for caution, protective measures, and adherence to safety protocols in areas where radioactive substances are present, minimizing the risk of exposure.
Products you may be interested in:
Safety signs and warning stickers are vital in today's business world. Now different industries involve and make safety stickers, and each industry has unique standards and requirements. Safety signs and warning stickers and labels can provide employees with operating instructions and safety information, reducing their problems with equipment misuse. Go to customsticker to get great discounts on bulk custom safety sign stickers and labels!
You can also use mac folder color changer to Change Folder Color on Mac.
READ: OHS Meaning (Occupational Health And Safety)? Visit HSEWatch