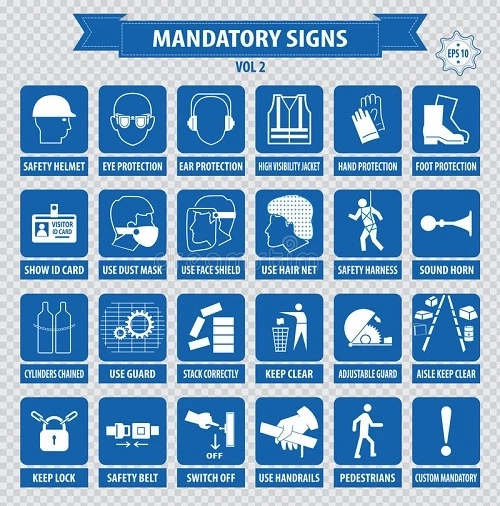 What are mandatory signs
They are safety signs used to pass information on what is required in a particular area to stay safe, it is a subset of the regulatory signs.
This sign can be used in the workplace, domestic building, on the road, etc.
Read Also: 21 Important road signs you must understand
For example: 
The picture below summarizes some very important mandatory signs: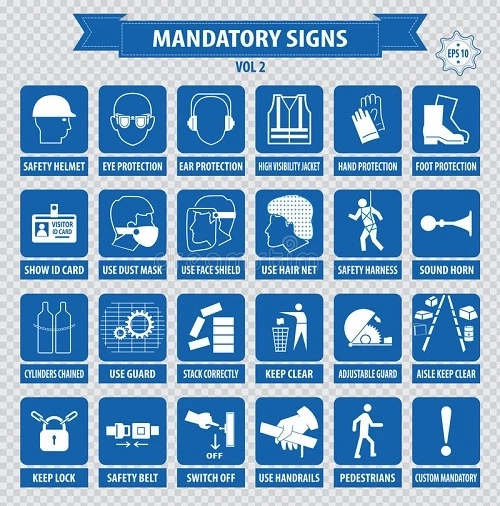 How to identify these signs
They generally use a white safety symbol on a blue background. This differentiate it from other signs which may use red background like in traffic signs/prohibition signs and green background like in emergency signs.
Example of road traffic sign
Example of emergency sign
The different can be easily spotted form the above two (2) signs (road traffic and emergency) when compared to the mandatory sign. The background colour is different.
We have highlighted some important mandatory signs with their meanings. So next time you step into a work premises, look out for these signs, it may be the only thing you need to guard your operations within the vicinity.
We have also given a clue on how to identify these signs – Remember, they always have a blue background.
I believe this article has been beneficial to you, please share it on your social media platform for your friend and colleagues.
If you have any question based on the topic we have discussed or any other HSE related topic, feel free to ask via our contact page or the comment box.
Thank you.
Thank You For Reading This Post, Don't Forget To Subscribe!!!