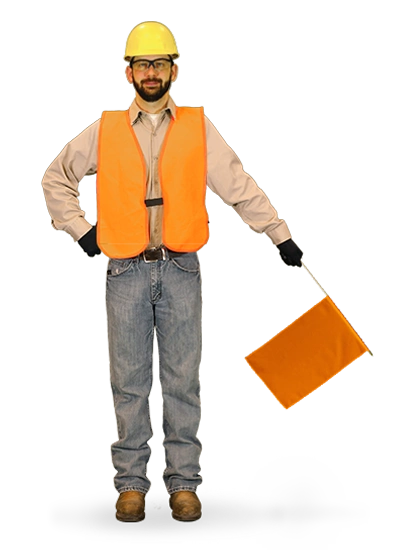 A flagman is someone who signals with a flag. They make use of flags of different colours; but mostly two colours are more popular, i.e, Red – For Stop and Green – For Go.
He is a personality which we cannot do without especially in the road construction work. They have a wide range of duties.
Duties Of A Flagman
Help vehicles move safely in their work areas, and help the drivers & operators avoid hazards and the potential of hitting people and other equipment.
They are another set of eyes to ensure that work goes on safely.
Controlling the Operation of Vehicles on Site, and ensure safe parking.
Flagman is also required to control the movement of the following vehicles on site:
• Excavator, Tipper Truck, JCB, Grader, Bulldozer, Water / Diesel Tanker, Delivery Trucks, Bobcat
• Safe distance from rotating equipment & excavation edges, giving Signals.
Contact with moving equipment being one of the major cause of fatality on site; it makes more sense to say that a flagman is invaluable on site, since they can help mitigate the risk of contact with moving equipment and vehicles.
Flagman Training
Some organization who do not understand the important of a flagman training do allot the responsibility of a flag man to anyone without training. I have seen a situation where the position of  a flagman is given out as a community slot. Anyone brought in by the community representative is immediately given a flag to start work without any form of induction nor training.
This is an invitation to threat. A flagman who do not understand his job specification and the risk he is involved in cannot understand the risk others he is supposed to protect are exposed to; hence he cannot do the job.
This is why it is important to ensure that our flagmen are properly trained. Flagman training is so invaluable.
I have attached a PDF copy of a flagman training material below.
You will just need to tweet this article to download the training material.
Do not miss to download this material as it will keep your flagmen up to speed in delivering on their responsibilities.
Download through the link  flagging_handbook.
Suggested Articles