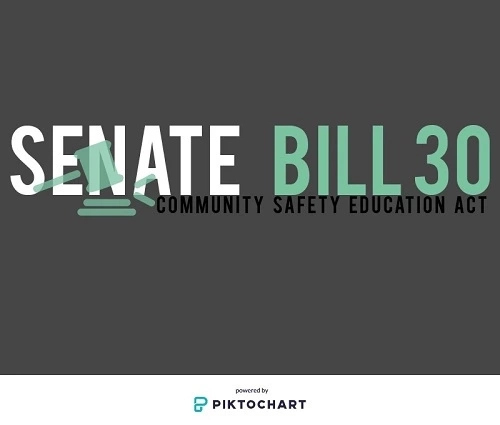 What is the Purpose of the Community Safety Education Act – The Community Safety Education Act also known as Senate Bill 30, was passed by the 85th Texas Legislature, Regular Session, 2017. The legislation added Section 28.012, regarding the instruction on interaction with law enforcement, to the Texas Education Code (TEC). The legislation requires the State Board of Education (SBOE) to adopt rules to include the instruction developed under TEC, §28.012, in one or more courses in the required curriculum for students in grades 9-12.
The SBOE adopted a new rule in Title 19 of the Texas Administrative Code (TAC), §74.39, Requirements for Instruction on Proper Interaction with Peace Officers, that became effective August 27, 2018. This rule requires school districts and charter schools to provide instruction to students in grades 9-12 on proper interaction with peace officers during traffic stops and other in-person encounters. The new requirement applies to any student who enters grade 9 in the 2018-2019 school year and thereafter. The SBOE also adopted an amendment to 19 TAC §74.5, Academic Achievement Record (Transcript), to require clear indication on the academic achievement record of completion by a student of the required instruction on proper interaction with peace officers.
READ: OHS Meaning (Occupational Health And Safety)?
What is the Purpose of the Community Safety Education Act
In general terms, the purpose of the Community Safety Education Act is to elevate the aspect of our day-to-day activities, which enlightens us on staying safe and creating an enabling environment for ourselves to grow, it helps young people learn about the importance of preventing injuries.
See FAQ about Community Safety Education here
Check up – State of Texas Community Safety Education Act Instructor's Guide Here
Read Also: What is WELL Health Safety Seal
Some Specific Purposes of the Community Safety Education Act
Develop and consolidate the progress of the traffic rules and Public activities. It includes respecting gender equity. It gives access to positions at all levels of the Justice System.
Institutionalize and strengthen mechanisms that improve the access of the entire population to the judicial administration system and alternative forms of conflict resolution, such as arbitration, conciliation, and mediation, and establish spaces for training mediators, to streamline the administration of justice and contribute with it to social peace.
Train and sensitize the personnel of all the institutions of the Justice System on human rights, with emphasis on the rights of women, children, and adolescents.
Universalize and strengthen the reform of the penitentiary system, as a means of rehabilitation, re-education, and social reintegration of people who are serving sentences.
Read Also: Safety Checklist Definition; Importance, Types & Samples